MBB: South Carolina pulls off comeback against Arkansas
SOUTH CAROLINA GAMECOCKS MEN'S BASKETBALL
The Gamecocks used three big second half runs to take down the Razorbacks 77-65.
South Carolina trailed by 13 in the second half, but a 12-0 run nearly erased the entire deficit. A.J. Lawson had two threes to start the run, and Hassani Gravett drilled another three to cap things off.
Moments later, a 10-0 run put South Carolina ahead. Lawson again started the run with a basket and Gravett tied the game at 54 with a three. A three-point play by Lawson put South Carolina ahead, and then Lawson fed Bryant for a fast break alley-oop that brought the crowd to its feet.
"We have this connection," Bryant said. "He'll see me and I'll see him and we go."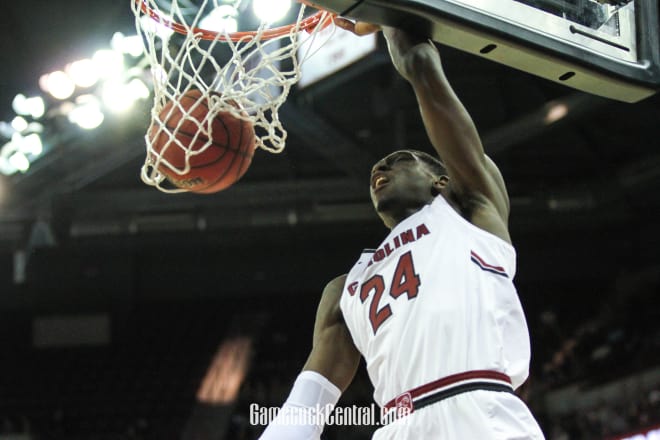 Arkansas called timeout to regroup, and scored seven straight to retake the lead, but it was the last last gasp. Bryant tied the game on a putback, and then put South Carolina back in front with a fast break layup. South Carolina finished the game on a 10-0 run as Arkansas imploded in the final minutes, going scoreless over the final 3:11 of the game.
"This time of year it's about who brings the energy," Arkansas coach Mike Anderson said. "And they had enough in the tank to finish it off the final three minutes."
"The veteran guys settled the young guys down, and in the second half Lawson was really effective as well as the Bryant kid," Anderson said.
The two freshmen, Lawson and Bryant, led the second half comeback, with a big assist from senior Chris Silva. Bryant scored 10 of the last 20 points for South Carolina, including eight of ten at one point. He scored in a variety of ways, from mid-range jumpers, drives, and of course his specialty, fast breaks. Bryant finished with 17 points, his SEC high. It all came after a dismal first half that saw him with more turnovers (three) than points (two).
"There was something said to us in the huddle that I can't discuss which made us go out there and play hard," Bryant said, laughing. "I'm not going to say who said it."
Lawson led all scorers with 24 points, and had seven rebounds and two assists. He made a career-high four three-pointers. After a sloppy first half in which he struggled against Arkansas' pressure defense, Lawson settled down and calmly executed in the second half.
"A.J. was special today," Frank Martin said. "He made his jump shots but he also got the ball in the paint."
Silva finished with relatively modest numbers, right near his averages. He had 16 points, eight rebounds, and three blocks. But his scoring was timely - he had eight in the final 4:13 of the game, beginning with the go-ahead jumper. Silva also played outstanding defense on Arkansas' Daniel Gafford, holding Gafford to just eight points and five rebounds, about half of his season averages.
South Carolina was out of sorts early, committing 15 turnovers in the first 16 minutes of the game. Arkansas scored 16 points off those turnovers, and South Carolina looked totally lost. But South Carolina did not turn the ball over once the final four minutes of the first half, and Martin made an adjustment at halftime in how South Carolina initiated its offense. In the second half, South Carolina turned the ball over just six times, and started getting open shots.
"We were rushing in the first half, not executing what we were supposed to do, not getting to our right spots, and the pressure kept getting to us," Lawson said.
It was the third game this season in which South Carolina won after trailing by double digits. South Carolina trailed at Florida by 14 in the second half and by 12 at Vanderbilt. Those comebacks gave South Carolina the confidence it needed to stick to its game plan and do it again.
"It was kind of a mental thing," Bryant said. "We were always told even though you're down, don't put your head down, there's still time."
Notes:
Among the Legends in attendance was Bruce Ellington. Ellington was sitting on the opposite sideline from the South Carolina bench, and Martin joked that Ellington was calling out all the plays for the South Carolina freshmen. "I didn't have to worry about standing up and the extended coaching box. He had me on the other side," Martin said. … Earlier Saturday, South Carolina announced that Justin Minaya would redshirt this season. Martin said that Minaya was an "emotional trainwreck" over the decision, but that it was clearly in his best interest. ... Gravett finished with nine points and five rebounds. … South Carolina outrebounded Arkansas 36-29. … Announced attendance was 12,374. … South Carolina's next game is at Tennessee Wednesday.
RELATED COVERAGE: