MBB: Terriers tame the Gamecocks
SOUTH CAROLINA MEN'S BASKETBALL
South Carolina fell to Wofford 81-61. Nathan Hoover scored 30 points to lead Wofford.
It was the Gamecocks' first game in over a week, and they looked rusty. The Gamecocks missed 16 of their first 18 shots, allowing the Terriers to build a 13-point first half lead. Sparked by T.J. Moss and Keyshawn Bryant, the Gamecocks went on an 18-5 run to tie the game at 24, but they couldn't take the lead, and that was as close as they ever got.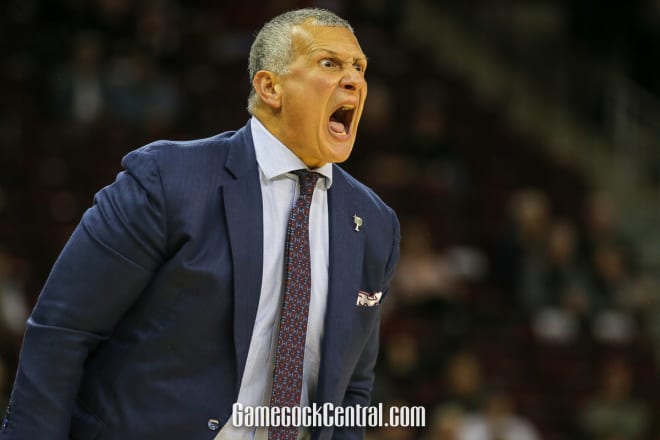 Wofford opened the second half on a 12-1 run, setting the tone for the rest of the game. South Carolina would close to within a basket or two, and then the defense would let up and Wofford would hit a couple of shots and pull away.
South Carolina was without starter Justin Minaya, who suffered a knee injury in practice Sunday. Minaya is South Carolina's best perimeter defender and would have drawn Wofford's leading scorer, Fletcher Magee. Losing Minaya threw a big wrinkle into the defensive matchups.
"He guarded Magee last year and his length really bothered him," Wofford's Mike Young said, adding that there was a noticeable trickle-down effect.
Hassani Gravett drew the assignment on Magee, and did an admirable job. He held Magee to eight points on 3-15 shooting, but the focus on Magee freed up Hoover to have a monster game.
"Everybody knows Magee is their go-to guy, so the plan was to keep him from getting the ball, but (Hoover) is just as good a shooter," Gravett said. "I don't know how we allowed him to get so many open looks."
Hoover scored the first eight points for Wofford, and every time the game got close, he made a big basket to stop a South Carolina run. He finished with a career-high 30 on 9-12 from three (he didn't even make a two-point basket), but Hoover was low-key about his performance.
"I saw a couple go in early and my teammates were feeding me," Hoover said.
Freshman A.J. Lawson guarded Hoover, and Hoover took advantage of Lawson's inexperience.
"A.J. makes three consecutive mistakes, and number ten makes us pay right off the bat," Martin said. "You get a good shooter going, and when you get a good shooter going, it's over."
Wofford shot 48 percent for the game, and 55 percent in the second half. Wofford also shot 45 percent from three. Martin was critical of Maik Kotsar and Chris Silva for their defensive effort, saying "I've got nothing good to say there." He later criticized their effort on ball screens, something he has mentioned several times this season.
"Their ball screen defense is really bad," Martin said. "Our ball screen defense is bad because those guys aren't locked in."
Kotsar did finish with 13 points and 10 rebounds, his second career double-double. His previous double-double came during his freshman season.
Notes:
Alanzo Frink, who has not played this season due to a knee injury, warmed up with the team, but did not dress. He will practice full speed Wednesday and Thursday and will play Friday if he has no ill-effects. … Minaya was on crutches with a large brace covering most of his right leg. … Bryant missed three days of practice with migraines, but felt good enough in shootaround to play. He wore tinted glasses to help deal with the lights. … Lawson struggled, going scoreless with four fouls and three turnovers. … Felipe Haase had 13 points off the bench. Bryant finished with seven points and six rebounds. … Moss had five points, but was just 2-8 shooting. … As Young and Hoover were leaving the post-game press conference, Hoover tried to return the bottle of water placed on the table for him. Young corrected him, "That's your water. You take it. That's what happens when you come to places like this." … Attendance was 10,561. … South Carolina's next game is Friday against another in-state opponent, Coastal Carolina.
Related:
Photo Galleries by Chris Gillespie and Katie Dugan
What the Gamecocks said after the loss
Stay with Gamecock Central for continuing coverage