Tears, hugs, and 'no other choice but to be emotional' on senior day
Georgia's defenders could not contain Aliyah Boston on Sunday.
Boston could not contain herself, either.
On Senior Day — an afternoon where Boston and six of her teammates were honored in a pre-game ceremony as one of the most successful recruiting classes in college sports history— the reigning National Player of the Year scored 25 points, grabbed 10 rebounds and cemented the first undefeated regular season in program history with South Carolina's 73-63 win over Georgia.
"I couldn't stop it," Boston said. "I literally cried when we were talking into the tunnel and I tried to wipe it. Coach was like, 'it's too early for tears.' I cried like three times before the game."
Just like everything else with the 2019 recruiting class — the "freshies" as they're known — Boston was not alone. Step for step, stride for stride since the day they stepped on campus, they were together.
Together in building the growing legend of South Carolina women's basketball, a program that was part of an elite tier when they arrived but is now the unquestioned standard-bearer of the sport. They were "joined at the heart" as Dawn Staley put it in their vision of trying to set a standard, break records, fill arenas and leave behind something more tangible than just trophies, rings and chopped down nets.
"I'm just proud, I really am," Staley said. "Proud because not a whole lot of men's or women's basketball programs are able to take that [senior day] walk in front of a sold out crowd. It's just a truly proud moment. You want the best for all of your players, and sometimes that is out of your control, meaning the amount of people that will come in and cheer and witness and love up on them. We're very, very fortunate that we got the kind of fan base that allows that moment to be captured in a way that they feel it.
"They have no other choice but to be emotional about it."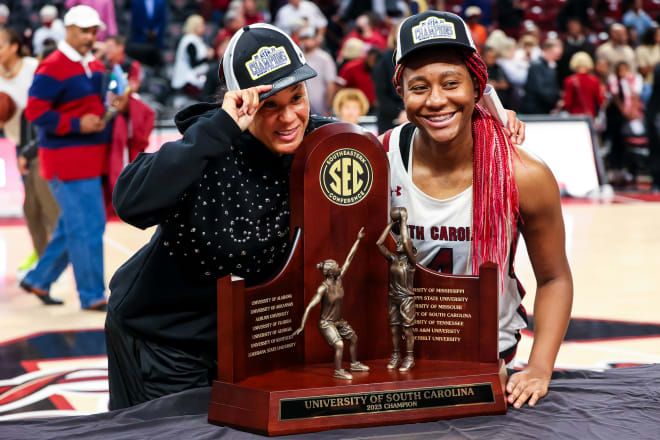 If the last four years were about South Carolina's players providing for the fans, Sunday was the four-hour reciprocation.
It started long before tip-off, with lines stretching well over a block outside all three entrances to Colonial Life Arena when the doors opened 90 minutes before tip-off. Those fans — many of whom have followed this group up and down the United States to Final Fours in San Antonio and Minneapolis with potentially a third one in Dallas six weeks from now — were eager to share love.
First to Kierra Fletcher and Victaria Saxton, the two seniors who were not part of the "freshies" class. Fletcher, a transfer from Georgia Tech and Saxton, a fifth-year player, had their moments. And then, like over 18,000 spectators waiting with baited breath, they watched the freshies.
They watched them enter with family, carrying flowers. First Olivia Thompson and Laeticia Amihere, followed by Brea Beal, Zia Cooke and Boston. There were parents, grandparents, aunts, uncles and high school coaches on the floor. There were hugs between the players and both Staley and Athletics Director Ray Tanner.
And of course, more tears.
"I think when coach got up there talking, that's what really made me start crying," Cooke said. "It was just a lot of things that were said and really got to me and they made me feel very special in the moment."
Relatives and administrators cleared the floor. Fletcher and Saxton backed away, sensing the weight of the moment.
For a brief window after senior day ceremonies but before the usual pre-game agenda of the National Anthem and starting lineup introductions, there were just five players alone in a huddle.
Thompson, Amihere, Beal, Cooke and Boston.
Alone, each embracing a little pocket of the day with the only other four people on the planet who could truly understand the flying emotions.
"I think that was a very, very special moment," Cooke said. "When we all came together, all the freshies, we kind of just let our thoughts out and we finished it with a 'freshies' on three.
"Just knowing that we started together, we finished together and how genuine we've all been with each other, it was a very, very special moment."
There was a basketball game to follow. The seniors combined to score 57 of South Carolina's 73 points, and the Gamecocks won for the 122nd time in 130 tries over the last four years. They received another SEC regular season championship trophy, this group's third in four years.
It was the type of day only possible in the rarest of spaces. Not just a senior day, but one with five seniors who did not transfer or go to the WNBA early. Not just a crowd, but a sellout one. Not just a great regular season, but an undefeated one. Not just a basketball game, but a basketball game used as a vehicle for outpouring of gratitude from a community.
Not just starting together, but finishing together.
****************************************************************************************
For all the latest South Carolina women's basketball updates, analysis and live commentary during games, join us on the insider's forum.