Clutch homers clinch walk-off win
SOUTH CAROLINA GAMECOCKS BASEBALL
When Noah Campbell dug into the box with a runner on third and the Gamecocks down a run, he wasn't thinking about the long ball.
He was thinking about a single to tie the game and let the Gamecocks fight another day. That was, until pitcher Jesse Schmit made a mistake and hung a pitch to the preseason All-American.
That's when Campbell, down to his last strike turned on it, belting a two-run, walk-off home run to right field to secure a 6-5 win over Utah Valley.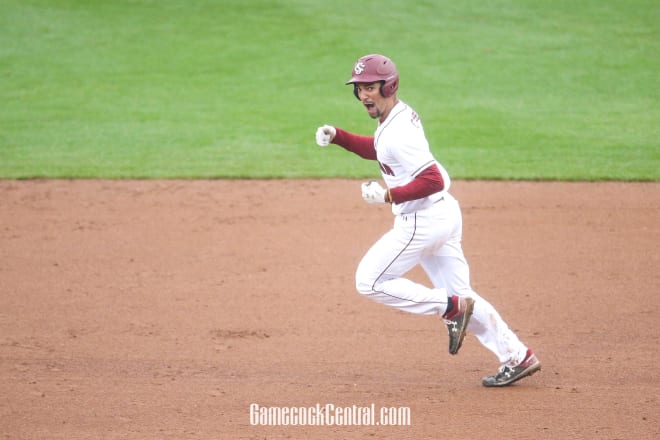 "It was pretty surreal. I hit it and I think I screamed, 'Go!' but I honestly can't remember," Campbell said. "It did feel really good."
Also see: In-state forward loves first trip to campus
It was the team's second walk-off win of the young season and came after Sawyer Bridges gave up three runs in the top of the ninth to blow a two-run lead and force the Gamecocks (5-1) to bat in the ninth.
Between innings, there was a mini-mosh pit in the home dugout, which was led in part by assistant Stuart Lake and sparked the Gamecocks' ninth-inning comeback.
Brady Allen worked a leadoff walk before taking second on a balk. After Chris Cullen bunted him to third and Jordan Holladay struck out looking, Campbell was down to his final strike on a 2-2 count before his two-run homer.
It was Campbell's second home run in as many games and the sophomore is hitting .222 after entering this weekend at .167.
"I think it shows this team, you need to have resiliency," Mark Kingston said. "So far we've had enough players to take advantage of that."
Also see: Gamecocks making a move for three-star linebacker
The Gamecocks (5-1) showed resiliency all game, using two separate comebacks to clinch the win. After starter Dylan Harley gave up two runs in the fifth to tie the game, Luke Berryhill and Chris Cullen each had solo home runs in back-to-back innings to go up two.
For Berryhill, it was his team-best tenth RBI and he's now hitting .333 in the Gamecocks' cleanup spot. It was Cullen's first home run of the season and his first hit since opening day.
"I thought it was good to see Chris. Chris obviously needs to be a key piece for our team this year. He's playing really well over at first base," Kingston said. "To get some offense out of the position will be big for us. I think it was great to see him get off the home run. The other home run was obviously just as important."
For Bridges, he came in with two outs and runners on the corners in the seventh and got out of the jam with a groundout before scattering two singles in a scoreless eighth.
The ninth was his trouble inning, giving up three straight hits to tie the game before John Gilreath gave up the then go-ahead run on a RBI double with the run credited to Bridges.
Bridges finished after 1.2 innings and Saturday was his second blown save of the season.
"I think he ran out of gas, and it's up to coaches to monitor that. We got him out of there, obviously he didn't finish the inning," Kingston said. "We probably needed to do it a little bit quicker. We have so much faith in him that you think he can overcome it when he's not as his best. He just couldn't do it today."
Harley looked better in his second-career start, going a little deeper than his 2.2 innings last weekend.

He pitched three perfect innings to start before giving up a hit in the fourth and running into trouble in the fifth. He'd allow two runs in the inning before being pulled.
The freshman lefty finished giving up three hits and striking out six over four-plus innings.
"We need better out of our starting pitching. He's more than capable of doing it, but it's progress," Kingston said. "Last week he got to the third inning and hit a wall. Today he went further and had no walks today. I think that's encouraging."
Also see: Full updates during a big game down in Mississippi State
Player of the game: Luke Berryhill finished 2-for-3 with a walk and drove in half of the Gamecocks' four runs. He also stole a base.
Key moment: Brady Allen worked a leadoff walk in the ninth, giving Campbell a chance to hit in the inning.
Up next: The series finale is Sunday at 1:30 p.m. with Reid Morgan getting the start. The game will be televised on SEC Network Plus.